International Academy of Professional Coaching
Have you ever thought that education could be much more than it currently is?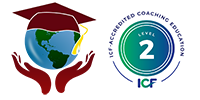 That educators have so much untapped potential to teach, lead, and serve in creative and enlightened ways?
Maybe it's time for you to join us as we train and inspire…
Why us?
Sure, we know that many different leadership and coach training programs show up on a Google search.
But of those programs, how many are ICF Level 2 Accredited, and specialize in preparing educational leaders and coaches to transcend the complexity of their job?
The current state of most coach training in education leaves much to be desired. Consider the following:
Commissioned by the Gates Foundation, Brown, Stroh, Fouts, and Baker (2005) found that, "The large majority of coaching programs in education appear to be a-theoretical in nature . . . it was rare that an organization presented a specific theoretical model that structured their coaching work" (p. 114).

Current educational coach preparation lacks rigor in training and monitoring of coaches and coaching programs (Brown, Stroh, Fouts, & Baker, 2005; Burkins, & Ritchie, 2007; International Reading Association, 2004; Reiss, 2007).

Individuals without any type of coach training or known level of coaching competence often call themselves coaches (Brantley, 2007; Terrell & Hughes, 2008).

Making matters worse, many inexperienced coaches are simply thrown into their positions without any training at all. Our research (Norwood & Burke, 2020, 2013, 2011) revealed that principals may appoint individuals to positions as school coaches, or teachers may step into coaching positions, simply because they are strong teachers and are respected by their peers.
5 Pillars of IAPC Coaching
Foundation
Co-Create the Relationship
Coherent Coach
Communicate Effectively
Cultivate Learning and Growth
Why should this matter?
Educational coaches, in current practice, teach, train, and share their ideas, resembling a "show and tell approach." Is this the most effective approach in growing adult learners or is their more? Is focusing on the "problem of practice" the most innovative approach in yielding change or are their transformational approaches that would shift levels of consciousness? Einstein is noted as saying that we cannot solve our problems with the same thinking we used when we created them.
I was incredibly fortunate that Kathy Norwood was my coach and mentor during my
coaching training. Kathy is a wise repository of coaching research and practice and she is kind and generous. Throughout my training she was beside me, challenging me, cheering me on, and providing insights at just the best moments. She helped me find and cultivate my strengths and to coach to the unseen. Kathy is a fabulous coach and mentor.


Carrie-Ann Tkaczyk, ACC, Instructional Coach, NCSD
Teacher and administrator training is no substitute for coach training. We believe that educational coaching is a distinct profession and, should be treated as such. The profession of coaching has its own skill set that takes years of practice for one to become highly effective. Coaches who lack this foundation are more likely to guess, stumble, possibly burn bridges, and hope that it all works out.
Educators face unique, high stakes challenges, and they need well-trained leaders and coaches who have the knowledge, experience, and temperament to help them navigate those challenges.
Unlike most other coach training programs advertised on the internet, we have therefore designed a program—evidence-based—grounded in theory, research, and practice—to prepare our graduates to excel in their careers.
We expect that our graduates:
Will return to their jobs on Day 1 with the knowledge and supervised experience to thrive.

Will have the coach specific training required to begin the ICF credentialing process.

One more important consideration: We expect our graduates to take
their place as TRANSFORMATIONAL LEADERS in their schools and communities.
What kind of leader/coach do YOU want to be?
Transformational vs Transactional
See Chart
Come and experience an invigorating learning journey as we teach you how to apply a transformational lens on your current work.
Requirements: This is a graduate level training course. Applicants much have met prerequisite standards in order to be accepted.
Prerequisite: Bachelor Degree, Equivalent, or Higher.
All Courses Originate in US English Language.